Trusteeship : A Path Less Travelled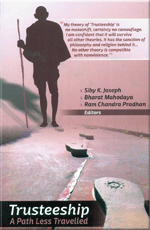 Edited By: Siby Joseph, Bharat Mahodaya, Ram Chandra Pradhan


First Published :

2016

Price : Rs. 400/-


Published by :

Institute of Gandhian Studies

Gopuri, Wardha 442001, MS, India.

About the Book:

This volume is a collection of selected papers discussed in the seminar on Trusteeship organised by Institute of Gandhian Studies, Wardha in February 2015 as a part of the celebration of 125th Birth Anniversary of Jamnalal Bajaj. It carries a foreword written by Ramjee Singh, a noted Gandhian scholar and former Vice Chancellor of Jain Vishva Bharati Institute, Ladnun, Rajasthan. It contains fifteen articles on trusteeship and related areas combining both theoretical and practical aspects.

READ BOOK REVIEW