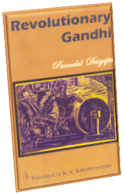 A great revolutionary appraises the greatest revolutionary of modern times
By :
Pannalal Dasgupta
Translate
d from Bengali
by
:
K. V. Subrahmonyan
Published by :
Earthcare
Books, 10 Middleton Street, Kolkata, West Bengal, 700 071 India.
Pages :
490+24
Price
:
Rs. 395/-
Pannalal Dasgupta (aka Panna Babu) wrote the Bengali original of this outstanding, insightful book on Gandhi in 1954-55, when imprisoned in the Alipore Central Jail. An indomitable revolutionary himself, he realised that Gandhi was indeed an extraordinary revolutionary who sought a radical change in the human condition, which could not be brought about without causing a ferment in society.