Original, authentic Gandhi works to go online
Gandhi heritage portal to be inaugurated on September 2.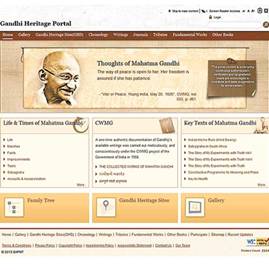 Come September and Bapu's thoughts will spread across the globe, literally. Prime minister Dr Manmohan Singh will launch the official portal on Gandhi on September 2, helping people get access to the official material on Bapu.
The portal – www.gandhiheritageportal.org – provides 5,00,000 pages of material in the electronic format. The work includes collected works of Mahatma Gandhi (CWMG) and the fundamental works of Gandhi. It also contains over 1,000 photographs, 21 films and 76 audio recordings. "The CWMG is available in Hindi, English and Gujarati. It provides seamless connectivity between different languages," project director BS Bhatia said.